10-Minute Plays for Jane's Walk 2018
Saturday May 5th and Sunday May 6th at 1pm
This May, six companies have been selected to share their stories about Calgary's downtown neighbourhood by creating and presenting a site-specific 10-minute play for Jane's Walk Calgary 2018.
Jane's Walks are free, locally-led walking tours inspired by legendary urban activist Jane Jacobs, in which people get together to explore, talk about and celebrate their neighbourhoods. This year, Alberta Theatre Projects is partnering with Theatre Junction to present 10 Minute Plays for Jane's Walk along the historic Stephen Avenue.
This Years Performances Are
god is A MAGPIE by Tangy Lime Dance Projects
Twilight is that heartbreaking moment when Day slips past Night, the Moon loses its grip on nocturnal bliss and crashes into a glacier and the Sun rediscovers lovers, insomniacs, criminals and the Type A jogger who, having lost out on love, is probably just a combination of the latter two. The Sun is the light by which the Fowl Kingdom sees all. Court is in session. All rise for the Magpie.
Inspiration for God is a Magpie is rooted in prairie geography (space, place and a sense of opportunity) and a sense of belonging where the individual voice adds to the power of the collective good. The natural world, particularly at the point where harmony unravels into cacophonous discord, sets the stage for this piece.
The Introduction/ The Conversation by DIY Theatre
Behind every husband is his wife's true story.
Lucy and Lucinda's husbands are stuck in a moment. Lucy and Lucinda are stuck with one another.
In a moment of surrealist serendipity, the housewives of two former business partners meet in a wrinkle in time. These often invisible and unheard of spouses are given full reign to tell the real history behind the men. They have the final chance to evaluate a life-changing moment – and for once, speak with absolute honesty. Niceties are thrown aside as these 1950s housewives strip away the veneer from their marriages and their disappointments, and reveal the truth of what they actually meant to one another.
Quarter Palace by Elizabet Rajchel and Brandon Tran
Two millennials skip school. Lizzie is a quirky choir kid and Brandon is a pretentious aspiring artist. Coincidentally they both end up in front of the Palace Theatre and decide to hang out together, which takes them on a journey through time. Along the way, they draw in people from the street to help them learn about the history of the Palace and Stephen Avenue. They float through time, exploring the Palace from the days movies cost a quarter, to when Destiny's Child blasted on the dance floor of the Palace Nightclub, on to Flames Central and finally to present day.
Unity in Diversity by Action Dignity
Through spoken word and poetry, Unity in Diversity will provide insights from young immigrant youth currently residing in Canada. The focus will revolve around overcoming the challenges of reconnecting with one's own identity through a series of reflections through the eyes of "the other".
One Bottle Too Many: Best Told by Bob Edwards by 1:37 Productions
Welcome home, Calgary legend Bob Edwards! The sinning satirist from the late 1800s, comes alive once more in this 10-minute play. Meet the man with a biting sense of humour, who was responsible for publishing the Calgary Eye Opener beginning in 1902. Edwards is back, fiercer and funnier than ever and he has a lot to say about 21st century Calgary. Experience this mashup of history and comedy and begin to examine your own political views through the iconic voice of Bob Edwards. You may love him, you may hate him, but he won't let you ignore what he has to say.
Booze and Brothels: Vice in 1907 Calgary by Diamonds in the Rough -East Village Seniors Drama Collective
The drinking and prostitution have gotten out of hand in the infant years of the 20th century in downtown Calgary, and the chief of police has turned a blind eye to it for over ten years. A concerned group of citizens is fed up with complaining and demand an inquiry. The Stuart Commission is appointed in 1907, but the methods used for collecting evidence against the police chief and the bizarre parade of people that are brought to testify lead the inquiry into disgrace.
Based on recorded historical events and the real people who influenced the early days of Calgary, Booze and Brothels features a colourful cast of characters including illustrious madams and prostitutes, prominent aldermen and churchmen, simple labourers, and the man in question – Chief of Police Tom English.
---
The Route
The 10 minute plays of Jane's Walk will all take place as the walkers travel between the Theatre Junction and the Martha Cohen Theatre.
The walk will begin at 1pm at the Theatre Junction Lobby on Saturday May 5th and Sunday May 6th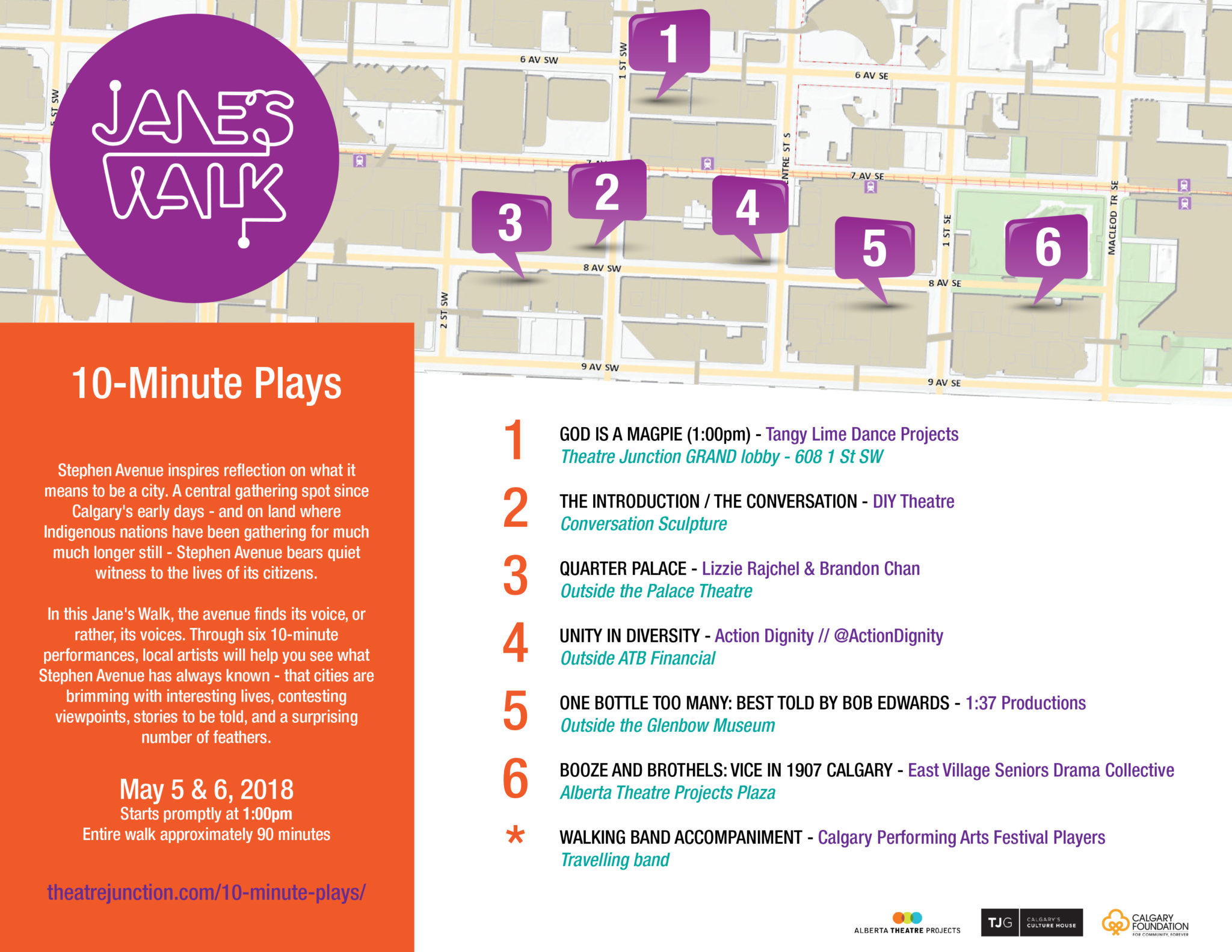 Event Sponsors
 Westhills Location
 Westhills Location