Ways to Donate
PROPEL US FORWARD
The economic downturn has threatened to ground ATP's work exploring daring new frontiers in contemporary theatre.
Please help.
Text 'FORWARD' to 45678 to donate $20 to ATP
or
Make a larger donation through a matching program
Matching Programs

Birdies for Kids presented by AltaLink
Donations made to Alberta Theatre Projects through Birdie for Kids presented by AltaLink are currently eligible to be matched up to 50%.
Or print and mail this downloadable form
---
Other Donation Options
Donate by Mail

Or Contact us

*UPDATE: ATB Cares has reached their matching cap
for the year but will be generously continuing to
pay the transactional fees on donations, which
is a tremendous help. Their 15% matching
campaign will continue in the spring. Donate online today!
*Please note: any personal information will remain
strictly confidential. No one outside of
Alberta Theatre Projects will see your info.
If you don't leave your name in the charity
information field, we won't know it was you
who donated,and won't be able to list you in
the program. We want to be able to thank you
for your generosity – so, please do leave
your name and a comment!
Alberta Theatre Projects
Development Department
220 9th Avenue SE
Calgary, AB T2G 5C4
Cheques can be made out to:
Alberta Theatre Projects

(403)294-7475
---
Monthly Donation
You can choose to donate a certain amount monthly, to be processed on the 1st or 15th of the month. Set up a monthly donation by filling out our donation form and mailing it to us or by contacting us at 403-294-7475 or giving@atplive.com
---
Corporate Matching
Many employers sponsor matching gift programs and will match employee contributions.
Check with your company's HR department to see if they will match your contribution to Alberta Theatre Projects.
Questions? Email us at giving@atplive.com
---
Donor Benefits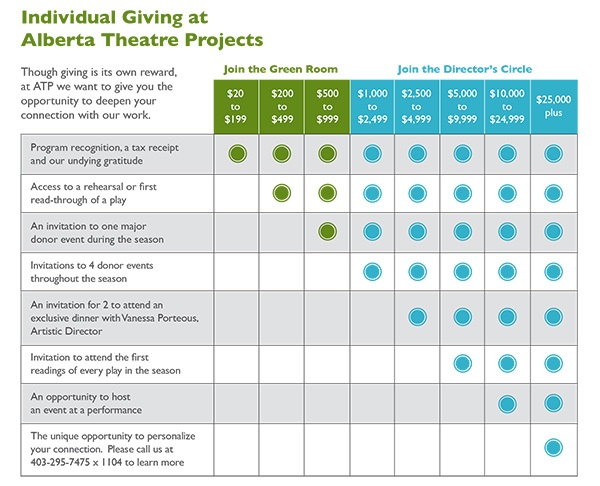 Legacy Giving
If you have remembered ATP by planning a Legacy gift, please let us know so that we can celebrate your thoughtfulness.
For further information about any of the options below or to schedule a meeting with a member of our Development team, please contact us at 403-294-7475 or email us at giving@atplive.com
Bequest
A bequest is a gift of cash or property that you make in your will.
A bequest to Alberta Theatre Projects can also provide a tax benefit to your estate.  The estate will get a tax receipt for the full value of the bequest.  That receipt will reduce the tax payable by the estate.  If the total receipt cannot be used for tax purposes on the donor's final tax return, the excess may be carried back to the previous tax year and used to claim a refund.
Wills can be complex and should be drafted with the help of a lawyer.  A lawyer, tax accountant or estate planner can help you set up your will to minimize taxes and probate fees on your estate.
If you are thinking of including Alberta Theatre Projects in your will, we would like to meet with you or your lawyer to review the terms of the bequest, particularly if it is restricted, to ensure that we will be able to comply with your wishes.
Publicly Listed Securities
Relatively recent tax incentives have made gifts of publicly listed securities an effective way to make a significant donation.
If many of your assets are tied up in the form of appreciated stocks and securities, you can eliminate capital gains tax and receive a charitable tax receipt for the fair market value of the shares by donating some of them directly to Alberta Theatre Projects.
Life Insurance
An individual's or family's life insurance needs often change over the years.  As a result, many individuals find that they no longer require those old policies to look after what they were originally purchased for.
Rather than simply cancelling the insurance and losing the payments made into their policies, policy holders can make a significant gift in the future by naming Alberta Theatre Projects as beneficiary.
This allows ATP to receive all, or a portion of, the death benefit proceeds of the policy which is no longer needed for family protection. In this way the donor is turning excess insurance coverage into future benefits for ATP.
Naming Alberta Theatre Projects as the beneficiary and owner of a life insurance policy will provide the donor with the opportunity to contribute a substantial gift at the time of his or her death, and receive a tax receipt for any premiums paid.
If Alberta Theatre Projects becomes the sole irrevocable beneficiary of an existing policy, the donor will receive a tax receipt for the net cash surrender value and for any remaining premiums that continue to be paid by the donor.
*We strongly encourage you to seek professional legal, estate planning and/or financial advice when making decisions about your gift to Alberta Theatre Projects.
Corporate Giving
Corporations can support ATP through both sponsoring and donating. We offer a variety of opportunities that can be customized to meet your branding, marketing and corporate entertainment needs. For more information please contact Corporate Partnerships Associate K. Erickson at kerickson@ATPlive.com