2017-18 Season
Call us what you will: rebels, rogues or mavericks. We don't care for labels. But Albertans' unique talent for defying expectations is a big part of our identity. It's a collective character we draw strength and inspiration from in challenging times and a symbol of our unity, even in our diversity. Emboldened by the courage of those who've come before us, we use our creativity and daring to propel ourselves forward and change the course of history.
This season ATP brings you six audacious stories that will inspire, challenge, thrill, and bring us together to celebrate the incomparable power and potential of the human spirit.
To subscribe to the 17/18 season, call our Ticket Office at 403-294-7402 or click HERE for info on how to subscribe online.
---

Sexy Suspenseful Drama
THE LAST WIFE
By Kate Hennig
Directed by Glynis Leyshon
September 12 – 30, 2017
To save her own life, Katherine Parr must learn to use all her powers of persuasion to win over her husband, the notorious Henry VIII.
"a very smart piece of writing" – Chicago Tribune
"a superb first play" – The Toronto Star
"…lively…contemporary…unapologetic" – The Globe and Mail
"…dynamic, engrossing…truly excellent theatre" – National Post
Audience Considerations: Sexuality, nudity, violence and coarse language. Suggested for ages 16+.
---
Poetic & Thought-Provoking ● World Premiere of the English Translation
TO THE LIGHT
BY EVELYNE DE LA CHENELIÈRE
Translated by John Murrell
Directed by Vanessa Porteous
October 17 – November 4, 2017
A turn-of-the-century painter reflects on her friendship with an older woman after her death and struggles to anchor her own sense of identity in the chaos of post-WWI England.
"When it ends, we have only one wish: to see it again." – Le Devoir
"Luminous!" – Jeu
"…truly magnificent" – Coup de Pouce
---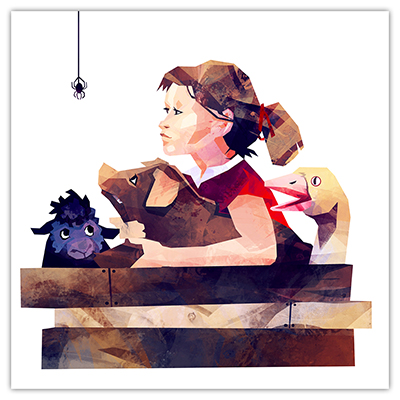 Family Holiday Show
CHARLOTTE'S WEB
BY E.B. White
Adapted by Joseph Robinette
Directed By Laurel Green
November 21 – December 31, 2017
"You have been my friend. That in itself is a tremendous thing." – Charlotte
E.B. White's beloved children's classic about the unlikely friendship between a pig named Wilbur and a spider called Charlotte.
Audience Considerations: Suggested for ages 5+
---

Heartfelt Family Drama
EMPIRE OF THE SON
By Tetsuro shigematsu
Produced by Vancouver Asian Canadian Theatre
PRESENTED BY ALBERTA THEATRE PROJECTS & ONE YELLOW RABBIT
AS PART OF THE 32ND ANNUAL HIGH PERFORMANCE RODEO
January 16 – 28, 2018
Empire of the Son is a funny and poignant autobiographical one-man show by former CBC broadcaster Tetsuro Shigematsu about his rocky relationship with his emotionally reserved father.
"Exquisite. I'm telling all of the people I love most to see this show…" — The Georgia Straight
"a powerful display of emotion… a riveting theatrical experience." – Vancouver Sun
Audience Considerations: Mature subject matter. Suggested for ages 12+.
---

Sophisticated Romance
CONSTELLATIONS
BY NICK PAYNE
Directed by Valerie Planche
February 27 – March 17, 2018
In a series of parallel moments over the course of Marianne and Roland's relationship, Constellations explores the infinite trajectories that love can take to bring us together or pull us apart.
"the most sophisticated date play Broadway has seen" – The New York Times
"a romantic bombshell" – Variety
"funny, tender and startlingly original work" – The Daily Telegraph
Audience Considerations: Contains mature subject matter and coarse language. Suggested for ages 14+.
---

Uplifting Hockey & Dance Extravaganza ● World Premiere
GLORY
BY TRACEY POWER
IN ASSOCIATION WITH WESTERN CANADA THEATRE
Directed by James MAcDonald
April 3 – 21, 2018
Inspired by the true story of Canada's first national female hockey league told through music and dance inspired by the jazz age.
Audience Considerations: Suggested for ages 12+
---
All illustrations by Micaela Dawn