Accessible Performances
New for 2017-18, Alberta Theatre Projects is a proud partner of Inside Out Theatre's Good Hosts Program, to offer a variety of accessible performances  during two of our shows: Charlotte's Web and Constellations.
To learn more about the Martha Cohen Theatre's accessibility features, click HERE or call our Ticket Office at 403-294-7402.

Charlotte's Web
Audio Described Performance and Touch Tour
November 26, 2017 at 12:00 pm (Touch Tour) and 1:00 pm (Described Performance)

For blind or visually impaired audience members we are providing a special pre-show Touch Tour and Audio Described Performance during the matinee performance of Charlotte's Web on November 26 at 1:00pm.
A touch tour is an opportunity for tactile guided exploration of the  set, props, and costumes from the play to give visually impaired guests an added level of understanding and appreciation for the show being presented.
Following the touch tour, the host will provide a detailed description of the key design element and a detailed visual description of each of the characters in the play. This introduction will take place 10 mins prior to the show beginning.
During the show a narrator will describe the visual elements of the performance in real-time as the action unfolds onstage. This added description is relayed to visually impaired guests through a pair of headphones.
18 spaces available for the touch tour and audio described performance.

Buy tickets for the touch tour and audio described performance by calling our ticket office at 403-294-7402 or by selecting the "audio described" ticket type on the ticket purchase page.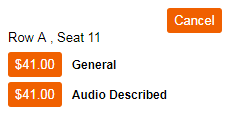 ---
Relaxed Performance
November 28 2017 at 11:30 am
A relaxed performance is designed to welcome audience members who would benefit from a more relaxed environment in which to enjoy the show. It is developed to address the needs of guests with sensory concerns, autism spectrum disorders, learning disorders, dementia, parents with small children, or anyone for whom the regular theatre experience can be challenging. This show is open to everyone.
How it works:
Small modifications are made to the production and the patron experience to help reduce elements that may cause anxiety.
The modifications vary depending on the production, and could include: reducing the volume of loud noises and effects, reducing or eliminating strobe effects, and keeping the audience seating lighting at a slightly brighter level in case a patron needs to move around or leave the theatre.
Patrons are free to move around or leave and re-enter the theatre as necessary.
A chill space will be set up in the lobby for anyone who is feeling overstimulated or just needs a break from the performance.
Most importantly, everyone is welcome to do whatever they have to do to be able to enjoy the play.
To book tickets to this performance, please contact Talore Peterson at tpeterson@atplive.com or 403-294-7475 ext 1098.

Constellations
ASL Interpreted Performance
March 7, 2018 at 7:30 pm
To provide an engaging experience of the show for deaf, deafened, and hard of hearing audiences, Alberta Theatre Projects is hosting an American Sign Language (ASL) interpreted performance of Constellations on March 7, 2018 at 7:30pm.
Tickets can be booked online or by calling 403-294-7402.
---
For a complete calendar of accessible performances in Calgary please visit www.insideouttheatre.com/good-host
For more information about wheelchair accessible seating and other accessibility features in the Martha Cohen Theatre please contact the Ticket Office at 403-294-7402.