Intern & Apprenticeship Programs
D. Michael Dobbin Apprenticeship
Interested in a career in theatre? We've got the perfect program for you! Our D. Michael Dobbin Apprentice Program is designed to give a newly graduated Grade 12 student the most immersive interdisciplinary experience in professional theatre in Calgary. Apprentices gain knowledge and a network of peers to help take them to the next level in their theatre education.
This is a paid apprenticeship for a high school student graduating from grade 12 this year. The apprentice will be employed as full time ATP staff from August through April – including a bi-weekly paycheque. Other perks include tickets to each show in our season and their photo featured on our season artist board and in our playbills, free monthly transit passes, and a $1000 bursary given at the completion of the term. They will also be given the opportunity to work as ushers and/or bartenders for extra pay.
The successful candidate will be provided the opportunity to apply, improve and develop new skills through a series of enhanced practical and job shadowing experiences in the administrative, artistic and production departments at ATP.
Apprentices can expect to work in the following areas:
Stage Management • Marketing & Communications • Resource Development • Play Development •Youth Engagement • Production • Prop Construction • Wardrobe • Design • Technical Theatre   
Adjudication
Participants are selected by the Youth Engagement Manager and Producer on the basis of their submitted material and personal interview. Participants are selected on the basis of competency, demonstrated interest, and assessed potential in professional theatre.
Applicants will be notified of their candidacy and scheduled for an interview. Interviews will take place on June 5th.
Eligibility
This program is for graduating high school students. Participant must be graduating high school at the end of the 2016/17 school year. Participants are selected on the basis of competency, demonstrated interest, and assessed potential in professional theatre.
Program Dates: August 15, 2017 – April 13, 2018
The application deadline is May 22, 2017
Hear what former DMDAs have to say about the program!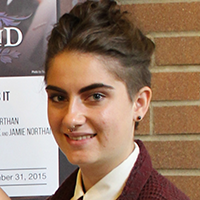 Being part of the team at ATP has really impacted how I see my future by helping me know how many diverse jobs are involved in the arts and how I fit in. It furthered that insight by highlighting skills that are useful in the arts and which I should develop more helping me to decide what's next. Thanks ATP!
 – Jessica Anger, 2015-2016 D. Michael Dobbin Apprentice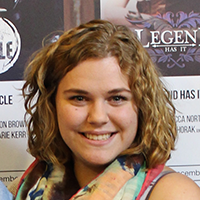 This past year has been filled with excitement, new experiences and new skills. I have a deeper appreciation for all of the hard work that comes from the office and stage to produce these amazing shows. This apprenticeship has provided me with the knowledge that I have what it takes to turn my passion into my future profession. Thank you Alberta Theatre Projects for this life changing opportunity.
– Camille Fecteau, 2015-2016 D. Michael Dobbin Apprentice
The D. Michael Dobbin Apprentice Program is made possible through the generous support of the Harry & Martha Cohen Foundation

---
University of Calgary Internship
The University of Calgary School of Creative and Performing Arts offers this program in cooperation with Alberta Theatre Projects and several other professional theatre companies. Under the supervision of a faculty member, one qualified fourth-year Drama student spends a full season at ATP gaining varied practical fieldwork experience.
For more information please contact the University of Calgary School of Creative and Performing Arts.
I came to the University of Calgary to learn, create memories, and challenge myself. Landing an internship at ATP was the icing on the cake which made all of these possible. I am constantly learning, overcoming challenges, and creating an experience I will never forget. My time at ATP has really solidified what I am passionate about and what I want to pursue in the coming years as an emerging artist. The supervision and guidance that ATP has provided to me as a learner in the Arts is monumental. While I am indeed expected to assume more responsibility and ownership over my work, I still have a supportive and understanding safety net beneath me. I make mistakes, and that is how I continue to learn and grow. I am humbled and eternally grateful for my time ATP and the opportunities that have been presented to me.
– Matthew Hall, 2015-2016 University of Calgary Intern